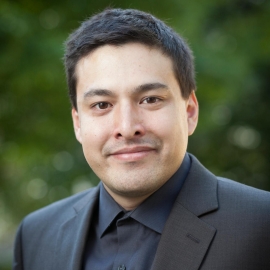 JASON LOCASALE, PHD – DUKE UNIVERSITY
Jason W. Locasale, Ph.D. is an associate professor with tenure at Duke University in the School of Medicine. He graduated from Rutgers University, Summa Cum Laude with degrees in Chemistry and Physics. He received his Ph.D. at the Massachusetts Institute of Technology.  He then conducted his postdoctoral training at Harvard Medical School under the mentorship of Lewis Cantley as an American Cancer Society postdoctoral fellow and later as an Instructor on the faculty at Harvard in the Department of Medicine.
Dr. Locasale has pioneered the use of metabolomics approaches to study cancer biology and metabolism.  He has made seminal contributions to our understanding of metabolism and nutrition including the role of serine synthesis in cancers, defining the quantitative, mechanistic principles of the Warburg Effect and altered glucose metabolism in cancer, and the role of metabolism in mediating chromatin status and epigenetics.  His research combines quantitative approaches in metabolomics and mathematical modeling with biochemistry, cell biology and genetics.
Dr. Locasale is a recipient of the NIH Pathway to Independence Award, the Benjamin Trump Award for Excellence in Cancer Research, and the American Cancer Society Research Scholar Award.  As an internationally recognized thought leader in metabolism, Dr. Locasale currently serves on the editorial board of PLoS Biology and has served numerous advisory roles for industry, philanthropic organization, and government including the National Institutes of Health office of the Director, and the National Cancer Institute.  His laboratory is funded primarily by NIH.  He has authored over 140 publications and numerous textbooks chapters and patents.